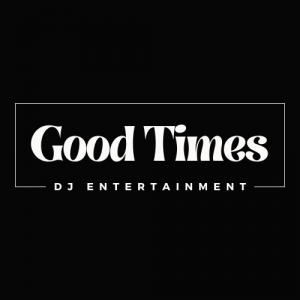 "Armando and Good Times Entertainment made our wedding reception the best party we could have asked for. Armando was very professional from the first time we met through the big day, and he was attentive and accommodating to our special requests. Having a packed dance floor was our one "must have" for our wedding reception, so we did our research to find a DJ who would make that happen. Armando far exceeded our expectations, and our guests ages 1 to 91 had a blast on the dance floor all evening. Many guests told us afterward that this was the most fun wedding reception they had ever attended. Thank you, Armando, for the best party of our lives!"
~ Michael and Juli Winters

"Thank you Armando for providing the most amazing entertainment and music that anyone could hope for. You went above and beypnd, and it showed. Our guests had a wonderful time. We received so many compliments on you rmusic. If anyone is searching for a DJ, stop the search. Choose Armando. You will not regret that choice."
"Thank you to Armando and Good Times for making sure our wedding reception was superb!!! We had SO much fun at our dance! He went out of his way to make sure we had a good time and provide us with exceptional service! Everyone loved the balloons and props. People are still talking about it and how much fun they had!  Thank you thank you thank you a million times for everything!!! All around outstanding service and wonderful guy to work with!"
"When my husband and I got married, we were looking for a DJ who could help us celebrate the day and respect both of our cultures.  Armando did a terrific job.  Even though my family speaks no Spanish and the groom's family speaks little English, both families spent the evening dancing together and having a great time.  Armando was especially great with the kids.  They loved the games he played to keep them involved in the wedding dance.  We would highly recommend Good Times DJ Entertainment."
~ Kristi Beckman & Giovanni Vasquez
"Armando Magallon was the DJ for our St Joachim's Fall Festival in Plainview, MN on September 25, 2011. He did such a wonderful job! He had the crowd singing and dancing and having a good time. He really involved the people in his music with fun songs and activities. He is an excellent musician and very good with people. He was kind, considerate, and very easy to work with. We highly recommend him as a DJ."
~ Sharon Schouweiler, St Joachim's
Catholic Church Fall Festival Chair
"We were so happy to find Good Times DJ Entertainment for the Taste of Nations event in Austin this spring.  The celebration brought hundreds of people to the Austin Mall, and we needed a DJ with an excellent sound system and a variety of music in Spanish and English in order to ensure that all our guests could enjoy an afternoon of music, dancing, and performances.  Armando did a great job playing a wide variety of music and keeping the crowd engaged.  His sound equipment was exceptional.  The quality was great, and the music could easily be heard throughout the mall at a comfortable volume, despite difficult acoustics and many people talking at once.  The event was a huge success, and we would like to thank Good Times DJ for their support."
~ Taste of Nations Planning Committee
Contact Armando at 507-251-1693  •  armandosdj.service@yahoo.com
Copyright 2022. All Rights Reserved.